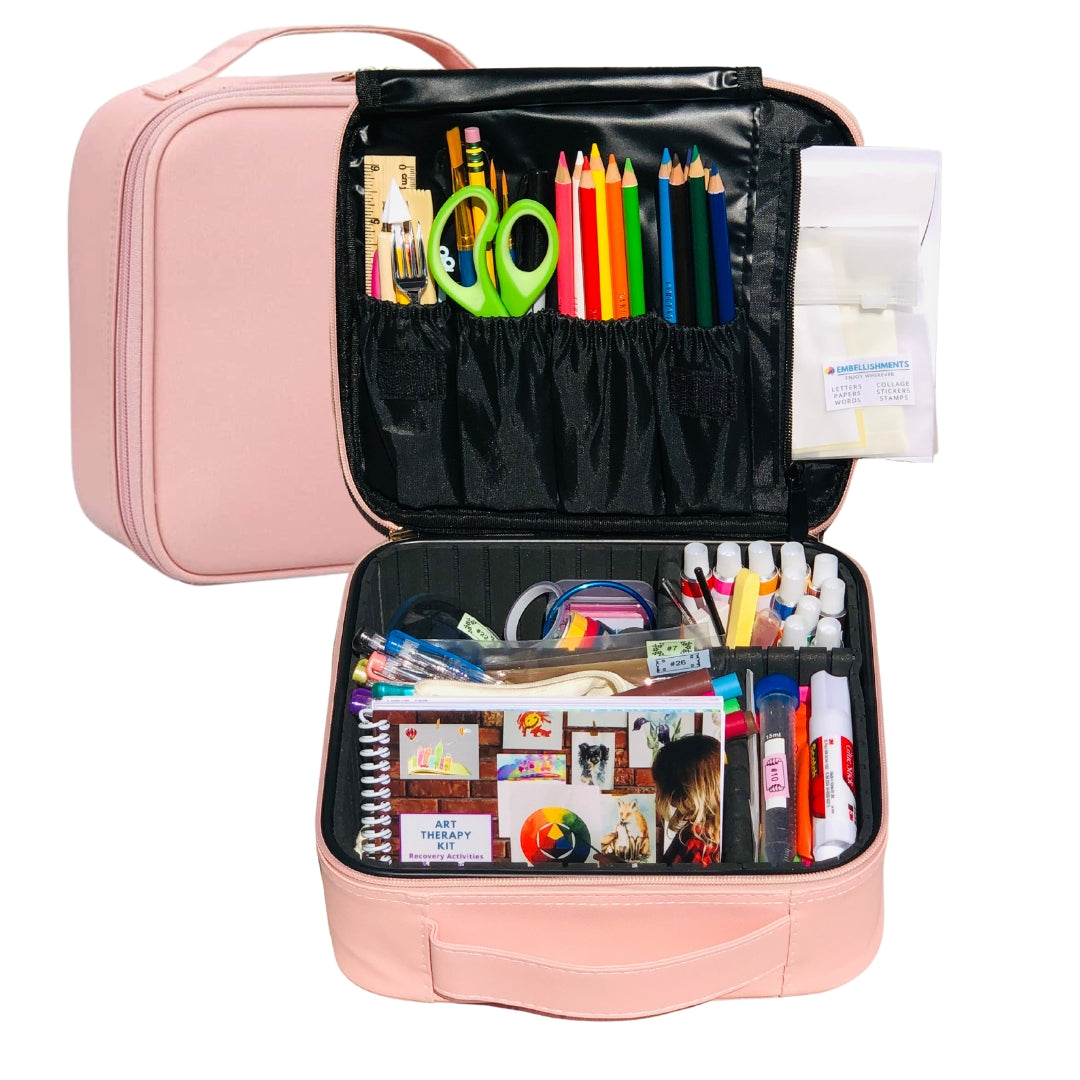 EXPERIENCE CREATIVE, HEALTHY ART THERAPY ACTIVITIES WITH THIS UNIQUE ALL-INCLUSIVE ART THERAPY KIT.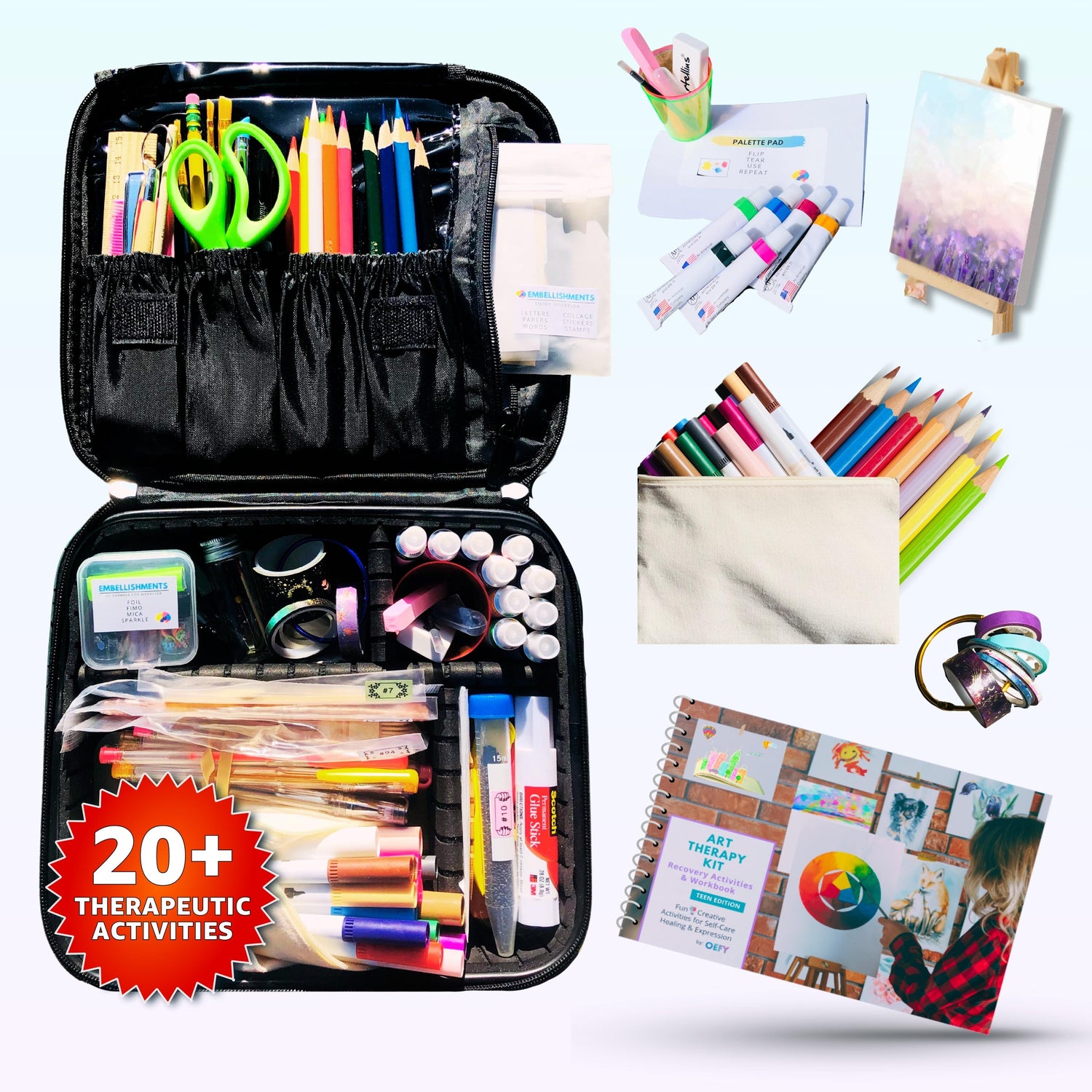 ART THERAPY KIT
Unlock your creativity and find solace with our unique art therapy kit. Engage in art activities that soothe anxiety, help you develop coping skills, and stimulate neuroplasticity.
BUY NOW
ART THERAPY ACTIVITIES
The comprehensive set of art activities provides a space to express yourself and explore your emotions in a creative way. There are 20+ tangible projects and fill-in activities on various topics to provide wellness: stress relief, relationships, boundaries, anxiety tools, sobriety, emotional regulation, ASMR, self-awareness, and affirmations.
ART THERAPY BOOK
The art therapy workbook and kit were developed by Registered Art Therapist, Jennifer Ann Jensen. The book provides a structured framework to work through thoughts and feelings and is designed to encourage and help you improve your problem-solving capabilities. The 20+ Art therapy Activities are engaging expressive experiences for individuals and groups.
ART THERAPY SUPPLIES
Gouache paint, watercolor pencils, gel pens, skin-tone markers, and dual-tip markers that bring color and beauty to crafts, while tools like scissors, brushes, ruler, pencil sharpener, eraser, washi tape, and glue stick - put everything you need to create at your fingertips. Draw, paint, sculpt, and craft collages with various embellishments, paper, stickers, and collage materials to unleash creativity and express emotions.
HOLISTIC WELLNESS
Use structured activities to decrease stress, reduce depression, and improve emotional well-being. The workbook lets you work at your own pace on the art therapy projects and in any order you wish, providing step-by-step instructions for the confident completion of each activity. Enjoy the satisfying art therapy activities for anxiety relief, calming mindfulness, coping skills, and stimulate neuroplasticity.
Perfect for Adults and Teens, with ADHD, ADD, Anxiety, Autism, and/or Addiction issues. No art experience is needed.
BUY NOW
ALTERNATIVE MEDICINE FOR MENTAL HEALTH
Art Therapy Kits

Use structured activities to decrease stress, reduce depression, stimulate neuroplasticity, and improve emotional well-being.

LEARN MORE

Art Therapy Activities

20+ expressive art projects to soothe anxiety, calming mindfulness, improve self-awareness, and coping skills.

LEARN MORE

Group Art Therapy Supplies

Four art therapy kits for group therapy. Unique art supplies, therapist tools for mental health. Great for groups, classes, or facility.

LEARN MORE
About Oefy
Oefy is the nickname of Jennifer Ann Jensen, a registered art therapist with over twenty years of experience. In addiction centers, art helped those recovering, the ability to see their wounds to foster healing. She taught alternative activities & coping skills to turn to during times of cravings and triggers. Oefy is now focused on creating products that expand creativity for individuals and businesses.   
Oefy with an Art Therapy Kit